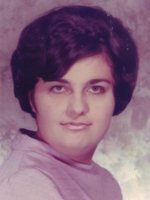 Maryanne Bruette
BRUETTE: Maryanne - Died unexpectedly on Saturday, April 17, 2021 at the Chatham-Kent Health Alliance.
She was born May 17, 1950 in Chatham, the daughter of the late George and Doris (Bebbington) Bruette.
Maryanne graduated from The Pines in 1968. She then attended Chatham Business School which led to her long career at Patene Building Supply Company.
Maryanne was the beloved sister of George and his wife Sadie (Bojko), Kathleen and her husband Michael Goldhawk, Ed and his wife Diane (Robinson) and Patrick and his wife Patricia (Devlaminck). Predeceased by great-nephew Mitchell (2009) and niece Kristen (2018).
Loving aunt to Bernadette, Barbara, Kathi-Lynn, Kristine, Jaclyn, Renee, Michael, Megan.
Great aunt to MacKenzie, Kaylee, Hayden, Nolan, Audrey, Kruz.
Maryanne's greatest joy was her family, whether taking care of her parents or rejoicing in the accomplishments of her nieces and nephews.
She was born with an artistic touch and enjoyed many pursuits including ceramics and card making.
Due to COVID restrictions, there will only be a private family burial.
In lieu of flowers, donations can be made to the Chatham-Kent Hospice Foundation or the Alzheimer Society.
Online condolences may be left at www.mckinlayfuneralhome.com
McKinlay Funeral Home, 459 St. Clair Street, Chatham, 519-351-2040