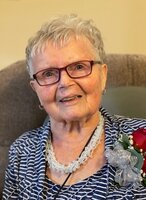 Suzan Van Dyk
Francina (Suzan) Maria Van Dyk, 90, of Fairfield Park Nursing Home, Wallaceburg, passed away suddenly on November 18, 2021.
Suzan was born on March 18, 1931 to Adrianus and Maria Lips in Prinsenhagen, Netherlands. Suzan excelled in math, but her education was interrupted by WW2. She then honed her mothering skills on her 7 younger siblings (Riet, Andre, Pete, Walter, Cor, Marinus, Janny).
In 1950, she met Adrianus (Joe) Van Dyk, when he literally swept her off her feet at a dance. They were wed on April 6, 1953 and emigrated to Canada the next day. Suzan and Joe would go on to celebrate 63 years of loving marriage. In their retirement, they enjoyed travelling and many bike rides in Rondeau Park. She joins him again to continue to tell him what to do.
Suzan and Joe settled in Ridgetown, Ontario to farm and raise their 5 children, Marinus Van Dyk (Carolyn) of Picton, Janice Van Dyk of Kingston, Mary Hajpel (Steve) of Ilderton, Joan Jackson (late Allan) of Tupperville, Adrian Van Dyk (Sylvia Faas) of Blenheim.
Suzan bestowed unconditional love to her children and her focus was always what was best for her children and family.
Suzan was passionate about whatever she chose to do. Whether that was blocking beets, planting tomatoes, knitting, crocheting, feeding the pigs, or raising ostrich. Not a child, grandchild, or great-grandchild went without a knitted sweater, coat, or hat. She loved to play cards, dance, and tend to her flower gardens. In her later years Suzan took a liking to Bingo and would proudly show her "potcha" of coins she had won.
Suzan is survived by her 5 children, 10 grandchildren (Erin, Karla, Nicholas, Carmen, Natalie, Kristen, Jenny, Kevin, Chelsey, Jeremy), and 9 great-grandchildren (Lucas, Emma, Peyton, Alex, Emerson, Addison, Eleanor, Claire, Evelyn), sisters Riet and Janny, brothers Walter, Cor (all of Holland), and Marinus of Blenheim, brother-in-law Francis Van Dyk of Highgate, and many nieces and nephews.
Suzan was pre-deceased by her loving husband Joe Van Dyk (2016), brothers Andre Lips and Pete Lips, Son-in-law Allan Jackson, and Grandson-in-law Greg Butler.
Many thanks to the staff at Blenheim Community Village and Fairfield Park Nursing Home, Wallaceburg for their compassionate care in Suzanne's later years.
A Private Family Funeral Mass will be live-streamed at St. Michael's Roman Catholic Church, Ridgetown at 11:00am on Saturday, November 27, 2021 on the church website (https://southkentcatholicfamilyofparishes.ca/watch-sunday-mass). The Bereavement Authority of Ontario have mandated that all guests attending the service must wear a mask. Those guests invited to the private event will be required to show proof of vaccination.
The family requests that in lieu of flowers please consider donations to the Alzheimer Society, Heart and Stroke Foundation or a charity of your choice.
Online condolences may be left at www.mckinlayfuneralhome.com
McKinlay Funeral Home, 76 Main Street East, Ridgetown, 519-674-3141.