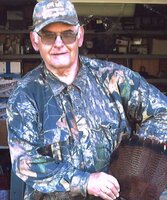 Bob Loop
LOOP: Robert Edmund "Bob" -
March 12, 1939 - February 24, 2023
A limb has fallen from the family tree. Remember the best times. The good life was lived, while I was strong.
Bob was born in Leamington. Son of the late Ed and Bernice (Hartford) Loop. Brother of the late Noreen Loop.
Survived by his dear wife Irene (Tabaček) Loop, their children Mark and Ann (Loop) Sabga, his grandchildren Emily and Quinton Loop and Benjamin Sabga, his nieces, Sandra, Janis, Susan and Jane and nephew Tom Sojak.
Bob loved all of his cousins and their families very much.
Bob was predeceased by his parents-in-law Urban and Sofi Tabaček, brother-in-law Tom (Irene) Tabaček and sister-in-law Mary Sojak (John).
Bob worked and retired from the Federal Government Department of Agriculture after 34 years.
A Private Funeral Mass will be held at St. Mary's Church in Blenheim. Interment Evergreen Cemetery, Blenheim.
Arrangements entrusted to McKinlay Funeral Home. Memorial Donations may be made in memory of Bob to the Parkinson Society (Research) or St. Francis Friary, Blenheim.
McKinlay Funeral Home, 141Park Street, Blenheim, 519-676-3451