---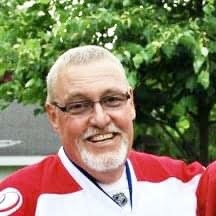 Obituary of Craig Swayze
Swayze: Francis CRAIG -
Husband, father and agitator, Francis CRAIG Swayze passed away Thursday, Sept 9, 2021 surrounded by love. 'Frank' was 68 years old and a fierce, loyal warrior for this family. Having prided himself on losing only 1 fight his entire life we will say that he did not lose his life but achieved the ultimate win.
Craig lived his life in Ridgetown, Ontario with the love of his life, Pam. He spent his days swearing at the squirrels stealing seeds from his beloved bird feeders and taking a solid hour to check his email because he always thought the back cursor was the backspace key. In his prime, Craig loved golfing and playing hockey. He enjoyed winning cards, eating dessert and passionately watching his Montreal Canadiens.
To imagine Frank at peace filled with joy, picture him petting his beloved cat Cody with a beer in hand and singing with Elvis. Craig's cherished grandson Chord has offered those feeling sad this advice "Just pretend grandpa is beside you and remember that he is just in your heart now".
Frank will be cherished by Spike (Pam), Bud (Kurt, his favourite son) and Minnie (Tara, his favourite daughter), Kathy, Chase, Ben, Chord and his extended family.
Donations in Craig's honour can be made to the Alagille Syndrome Alliance (www.alagille.org) or the Ridgetown Legion branch 243 Poppy Fund.
Everyone who wishes to remember him is asked to celebrate Frank's life in their own way; raising a glass of your favourite beverage, playing a hand of euchre or hugging a loved one would be quite appropriate.
Online condolences may be left at www.mckinlayfuneralhome.com
McKinlay Funeral Home, 76 Main Street East, Ridgetown, 519-674-3141

Share Your Memory of
Craig